Obesity
CDC's Division of Nutrition, Physical Activity and Obesity
Programs on Overweight & Obesity Look for basic statistics on prevalenc e , incidence, death rates, disbilities, population distribution.
Defining Case definition and Obesity Review discussions for both children & Adults, Including this paper from JAMA defining obesity as a disease, and be prepared to comment after reviewieing the "Summary & Conclusions" (see page 5).
Obesity Data Graphic from Health Affairs.

Readings;
Required Textbook: Read Chapter 9, think about Figure 9-1. Think about the high risk populations and compare these in each session of the course. in this section on morbidity think about when you can really separate out on the ability of obesity from the morbidity of the other chronic diseases we will talk about as in nearly each one of them obesity is on the high risk issues. Similarly, when we talk about mortality due to obesity is the obesity underlying cause or is it associated with or enhanced by a separate chronic disease. Look at the descriptive epidemiology and particular note the map of state obesity levels and time trends. When looking at the site for prevention and control think about how successful prevention has been, and whether if it was successful will becomes deluged by profit-making groups trying to teach each of us how easy it is to lose weight if we just sign up and pay for their protocol. In the screening section you should be concerned about how often the screening criteria change and whether there is really good research on screening criteria or if this is a area to look for more translational research. When you get the section on examples of evidence-based treatment despite the problem there doesn't appear to be very much evidence that the for profit entities offer than dubious anecdotes.. Then look at the areas for future research and determine whether you agree with them and whether there are areas that you believe have not been investigated. Look at this article on rethinking the use of the BMI.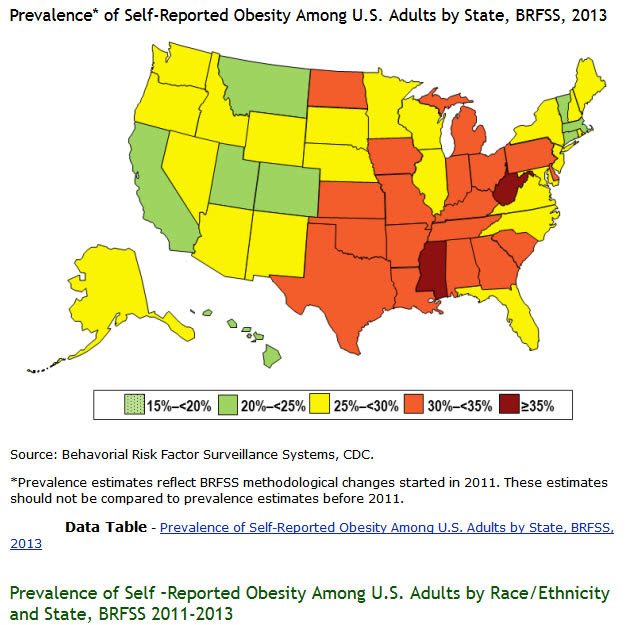 To get a feel for the current state of obesity before going on to the rest of the material look at this article on the changing lifespan, followed by an editorial in the challenge of obesity, and one on dietary habits,Then one the limits of progress based on epidemiology analysis of the current status of diabetes and Consider the previous article on taxing sugary drinks..
Then look at this MMWR item from the CDC on childhood obesity, focus on the abstract..
Scan the 2015 dietary Guidelines. Then review this concern about dietary advice. :Look at this discussion on activity and health from the IOM, and this review from the NEJM.
View Ppt slide Children's Genetic, Social, and Behavioral Environment for Some Chronic Health Conditions, Perrin, J. M. et al. JAMA 2007;297:2755-2759
Does a tax on junk food make sense?
MMWR July 24, 2009 Recommended Community Strategies and Measurements to Prevent Obesity in the United States and on obesity policy from the NEJM in 2013
Be aware of the Obesity Prevention Foundation.
Preventing Obesity-AHA statement.
Look at the first 5 minutes of this documentary from the IOM/HBO video, feel free to watch the remainder.
Then take a quick scan of the following:
the IOM Obesity Poster and a short monograph from the IOM on evaluation of obesity programsl.
Review the Nov 17 2011 NEJM critique of antiobesity programs for children to prevent CVD later in life and tell us if we should change our approach.
What translational research objectives does this Dec 21 2010 article from the BMJ suggest? Do you think any offer more bang for the buck than others? Why?
Scan NEJM report of the Stark Reality
Scan the BMJ discussion on taxing foods and compare with the New York approach which legislates size of drinks, also, this paper from JAMA on what is appropriate public health policy an d the potential value of Calorie Information on Purchases.
NIH Obesity Programs. In particular look at the prevalence data.
Scan obesity in "America's Health Rankings." Look at your state and consider where it fits in National Rankings. How does this compare to the UK & the NHS Goals?
Bridging the Evidence Gap in Obesity Prevention: A Framework to Inform Decision Making (2010 IOM)
IOM study on progress in Obesity Prevention, Scan the first 2 chapters in the summary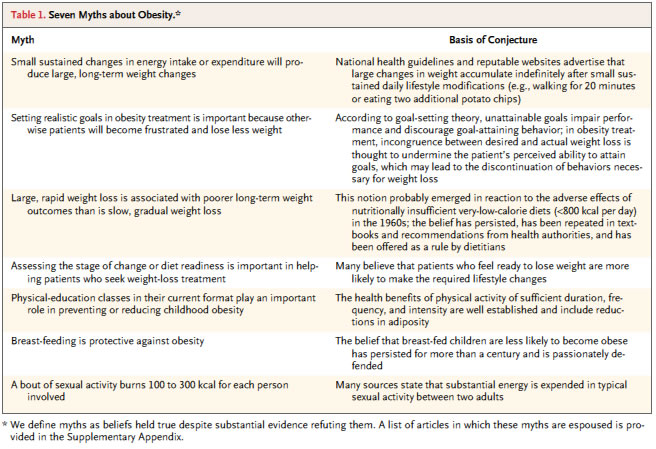 Myths, presumptions, and FAQs about obesity; n engl j med 368;5 nejm.org january 31, 2013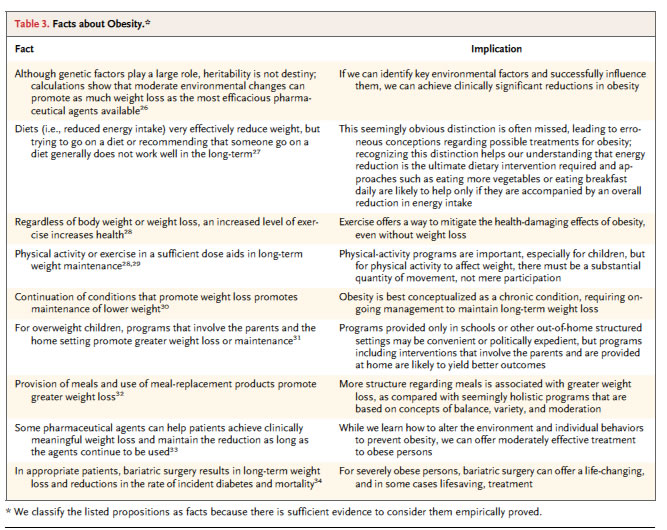 Campaign to End Obesity. Read the Executive Summary, Pages 7-13, and scan the rest.
How much effort should be made to use bariatric surgery to control obesity, Also this editorial from the NEJM and this from Science Daily.
Do you think physician's behaviors influence patients? consider this issue for other topics.
Measuring Obesity Outcomes. Read the Introduction. Also this from the IOM.
What about body shape, obese or not, is it important?
This document is not required reading but may interest some of you. It is a comprehensive effort to suggest future efforts and research from the IOM
Recent Useful Articles
Obesity in Children, Editorial NEMJ
New Obesity Guidelines - JAMA Jan 2014
Flawed Studies
Subtyping Obesity